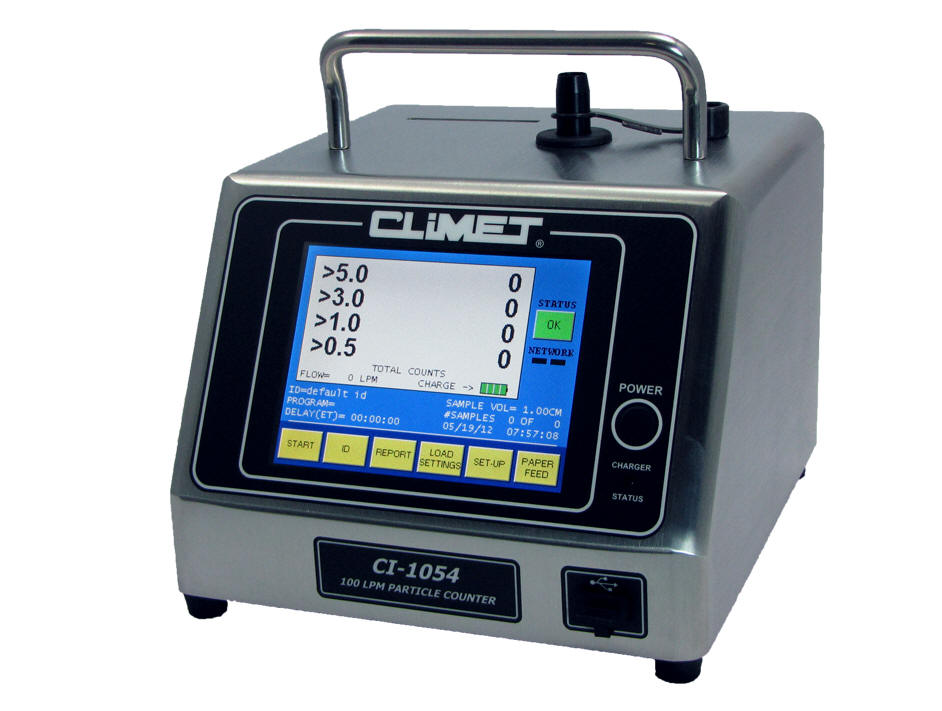 Standard Particle Sizes:
0.5 μm, 1 μm, 3 μm, and 5 μm
(Other sizes available upon request)
High Accuracy & Reliability
HEPA Filtered Exhaust
Internal Data Storage
Audible Alarm: Built-in,
Adjustable and Programmable
Touchscreen Display
Internal Thermal Printer
Internal Battery Charger
Completes a Full Cubic Meter sample within 10 minutes!
Wall power or battery operation
Clone Settings Unit-to-Unit
Industry's first seamless stainless steel enclosure makes sanitation a snap!
Sample High Pressure Gases
when used with Climet's High Pressure Diffuser

Connects to existing network infrastructure & LIMS software.
ISO 21501-4
ISO 14644-1
EU GMP, Annex 1
FS-209E
JIS 9921
21 CFR Part 11

CI-1050 Series
Portable Airborne Particle Counter
100 Liters Per Minute (LPM)
Particle Size: 0.5 μm to 25 μm
CI-1052x | CI-1053 | CI-1054
When Accuracy Matters!™
After all, the top pharmaceutical companies in the world can't be wrong!
The CI-1050 Series of 100 LPM airborne particle counters are engineered with only the highest quality materials. This ensures a long product life-cycle, and up to decades of reliable use. Moreover, lifetime calibration support services are offered on all our instruments.
Accuracy & Reliability
All our particle counters are engineered to exceed ISO Standards for accuracy. 50% Count Efficiency on factory-new and interval calibrations are calibrated to ± 10%, rather than the looser ISO standard of ± 20%. 100% Count Efficiency is calibrated to meet the ISO Standard of ± 10%.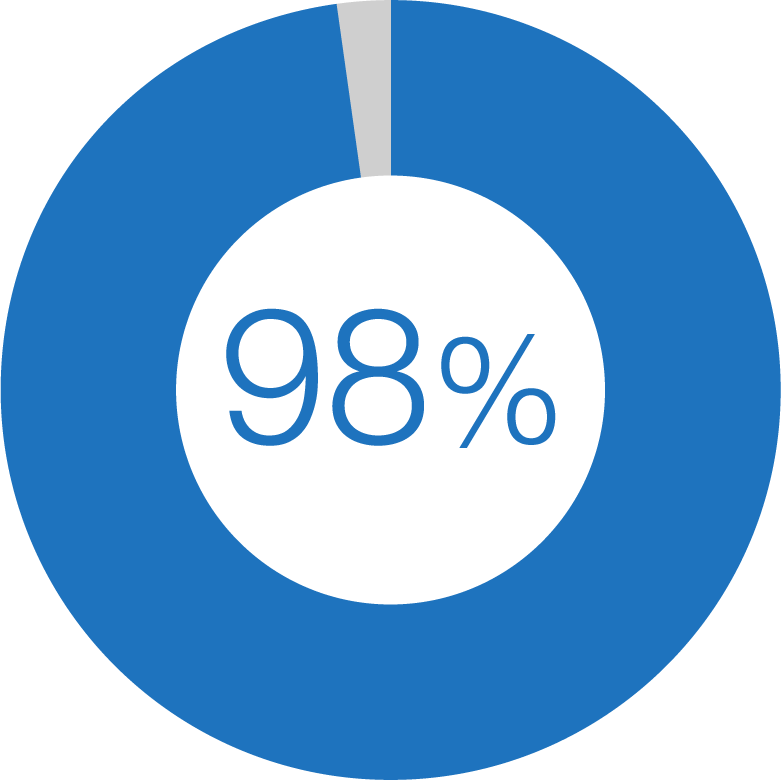 We have built our reputation by providing highly accurate instruments that stand the test of time. An internal study conducted in 2014 confirms that particle counters returned for calibration over the past two years have an "In Tolerance" calibration rate of ninety-eight (98) percent! This study also included some units manufactured over 20 years ago.
Simply, Climet particle counters are engineered, tested and calibrated with tight tolerances to exceed industry standards. Years of count efficiency testing has demonstrated that a properly calibrated Climet particle counter produces good count efficiency, even after more than a decade of field operation!
Return On Investment
Not all particle counters are equal. The initial purchase price, cost of calibrations, cost of consumables, out of warranty repairs, and product life-cycle all factor into calculating the Return on Investment. Other intrinsic factors such as assurance, reliability, accuracy, application support, and superior customer service make Climet the unsurpassed leader in the manufacture of particle counters for cleanroom monitoring, validation, and certification.
Custom Engineered Solutions
If you have a specific technical requirement, please
contact us. We specialize in customizing our product to fit your needs!
Configurations
All products in this series have an RS-232 data interface, built-in thermal printer, filtered exhaust, wall and battery power with fully integrated battery recharger, internal data storage, and other advanced features.
| | |
| --- | --- |
| Part # | General Description |
| CI-1052x | 100 LPM Particle Counter with RS-232 data interface * |
| CI-1053 | 100 LPM Particle Counter with RS-232 and Ethernet data interface. * |
| CI-1054 | 100 LPM Particle Counter with RS-232, Ethernet and USB data interface. * |
| | |
| | |
* = HEPA filtered external exhaust.
Proudly engineered and manufactured in the USA