For Continuous Monitoring and Systems Integration

Long-Term Accuracy & Unsurpassed Repeatability of Measurement
Stainless Steel Enclosure
10,080 Sample Data Buffer
VHP Compatible
PoE+, Wi-Fi, or A/C Configurations Available
HEPA Filtered Exhaust
Easy To Install, Operate and Validate
Automatic Flow Control
Remotely Controlled and Monitored (+) ON/OFF Button
Light Ring and Output Contacts for a Light Tower
New Proprietary Diagnostics Contribute to Climet's Reputation for the Lowest OOT Rate in the Industry - - Mitigates Deviation Reports and Failure Investigations.
Connects to existing network infrastructure and standard environmental monitoring systems including LIMS software.
ISO 21501-4
ISO 14644-1
EU GMP, Annex 1
FS-209E
JIS 9921
21 CFR Part 11

CI-3100 Trident Series
Remote Sensor Airborne Particle Counter
1 CFM With Internal Vacuum Pump
For Continuous Monitoring
The CI-3100 Trident series of particle counters is Climet's next generation of remote sensors used for continuous monitoring applications in critical areas.
With an integrated vacuum pump and power supply the Trident model is similar to our current CI-3100 OPT, but incorporates numerous innovations and upgrades.
Power over Ethernet (PoE+)

Another industry first! The CI-3100 Trident is the first remote sensor particle counter with a built-in vacuum pump that offers customers a PoE+ option. This technology allows power to be injected onto standard Ethernet cabling, thus eliminating the need for an external power connection. The benefit of this technology is a more simplified installation, and the elimination of A/C wiring where electrical safety is a concern.
Internal Sample Data Buffer
The CI-3100 Trident series offers an internal memory buffer for up to 10,080 samples, which when operated continuously 24/7 is up to one week's worth of data. This provides protection again network outages or software crashes allowing users to easily recover and upload missing sample data.
New Proprietary Diagnostics
Climet particle counters have a well known reputation among users of having interval calibration out-of-tolerance (OOT) rates that are an order of magnitude less than our major competitors. This provides the industry lowest total cost of ownership, having generated far fewer deviation reports and failure investigations due to OOTs. Our new patent pending (or patented) diagnostic routines provide a much higher level of failure detection against contaminated laser optics or a laser failure, which further reduces the probability of having to conduct a failure investigation.
Optional Relative Humidity (RH) & Temperature Probe
Users have the option to leverage their investment with an optional RH and Temp probe.
Network Time Server or embedded Real Time Clock
Each CI-3100 Trident series is compatible with Network Time Servers frequently deployed in large pharmaceutical production plants, or by default Trident will use its embedded RTC (Real Time Clock) ensuring the highest accuracy.
Light Ring & Output Contacts for External Light Tower
Each CI-3100 Trident has a fully integrated user enabled/disabled light ring allowing a 360 view of each sample status. The instrument also has output contact closures allowing remotely located counters to simply and easily connect to an external light tower, again allowing a 360 view for sample status.
Physical ON/OFF Button
In addition to being remotely controlled and monitored, each CI-3100 Trident counter has a rear push button allowing the user to turn the instrument ON/OFF locally. A programmable sample delay also allows users enough time to press the button and step back six feet thus allowing the instrument to sample "in-operation."
Optional Wi-Fi
One model of the CI-3100 Trident particle counters offers users a Wi-Fi configuration. Sample synchronization and Checksum protection provide the highest level of data integrity by ensuring all sample data is uploaded, and that sample data is not tampered with or manipulated.
Quality Manufactured Products
The CI-3100 OPT Series of airborne particle counters are engineered with only the highest quality materials. This ensures a long product life-cycle, and up to decades of reliable use. Moreover, lifetime calibration support services are offered on all our instruments.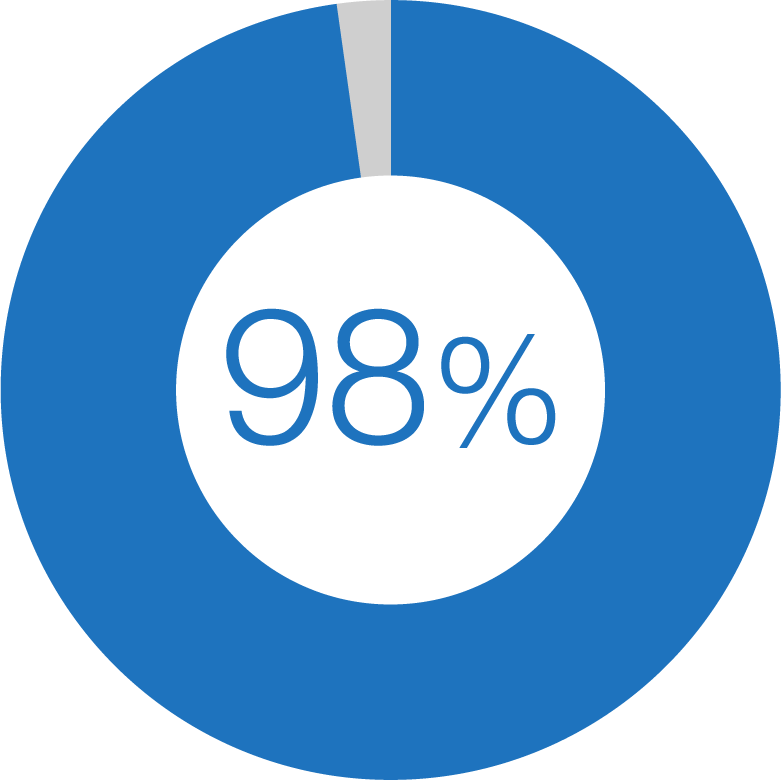 We have built our reputation by providing highly accurate instruments that stand the test of time. An internal study conducted in 2014 confirms that particle counters returned for calibration over the past two years have an "In Tolerance" calibration rate of ninety-eight (98) percent, with 25% of the units included in this study being manufactured over 10 years ago.
Simply, Climet particle counters are engineered, tested and calibrated with tight tolerances to exceed industry standards. Over 50 years in the manufacture of particle counters and over a decade of count efficiency testing has demonstrated that a properly calibrated Climet particle counter produces good count efficiency, even after more than a decade of field operation!
Return on Investments and Total Cost of Ownership
Not all particle counters are equal. The initial purchase price, cost of calibrations, cost of consumables, out of warranty repairs, and product life-cycle all factor into calculating the TOTAL COST of OWNERSHIP. Other intrinsic factors such as assurance, reliability, accuracy, stability or repeatability of measurement, application support, and superior customer service make Climet the unsurpassed leader in the manufacture of particle counters for cleanroom monitoring, validation, and certification.
Custom Engineered Solutions
If you have a specific technical requirement, please contact us. We specialize in customizing our product to fit your needs!

Please contact us if you need application or configuration assistance!