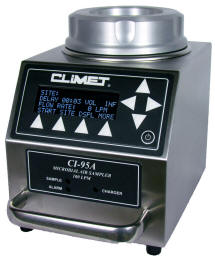 ISO 14698-1 Validated
Flow Rate Provides Optimal
Velocity & Impaction To Ensure High Biological and Physical Efficiencies
High Reliability and Assurance
VHP Compatible

HEPA Filtered Internal Exhaust
Light Weight & Easily Transported
Audible Flow Alarm
AC or Battery Operation
Sample A Cubic Meter in 10 Minutes at 100 LPM Flow Rate
1 CFM or 25 LPM Models for Continuous Monitoring Applications
Segment A Cubic Over A User-Specified Period of time.
Multifunctional adapter heads allow remote monitoring in a biosafety cabinet or isolator, and sampling of high pressure gases.

USP <797>
ISO 14644
ISO 14698
EU GMP, Annex 1
CI-95A
Airborne Microbial Sampler
1CFM, 25 LPM, or 100 LPM Flow Rate
Aseptic environments used in the manufacture of sterile products must be monitored in accordance with regulatory standards. The CI-95A uses the highly effective and time proven active impaction method. This collects air through a perforated head, and microorganisms are impacted onto a standard 90 mm petri dish (or 55-60 mm RODAC plate) placed into the device. Samples can be easily controlled and collected in accordance with ISO 14698.
Polished stainless steel enclosure provides the highest resistance to particle and microbial attachment, it is static neutral, and is easily cleaned and sanitized per ISO 14698-1. The CI-95A therefore provides unsurpassed resistance to bio-contamination.
Per ISO 14698-1, Section A.3.2, the internal exhaust incorporates a HEPA Filter that eliminates reaspiration of the exhaust, and subsequent contamination or biocontamination of the environment being sampled.
Automatic Flow Control (e.g., validated flow rate) regulates optimal sample velocity during all operating conditions, which ensures sample consistency and accuracy. An audible flow alarm provides additional assurance of a valid sample, and mitigates expensive deviation reports and investigations. The CI-95A microbial sampler has an average interval calibration out-of-tolerance rate of less than 1%.
The CI-95A sampler head is fully autoclavable, and the unit is completely compatible with common cleaning and sanitation procedures, including VHP.
The CI-95A incorporates two technology innovations that provide unsurpassed biological and physical efficiency, with excellent sensitivity down to 1 µm per ISO 14698. In 2016, patents were filed to protect these proprietary features.
Quality Manufactured Products
The CI-95 microbial sampler is engineered with only the highest quality materials. This ensures a long product life-cycle, and up to decades of reliable use. Moreover, we provide calibration support support services for all of our devices over their lifetime.
Microbiological air sampling in cleanrooms and other controlled environments usually requires the sampling of large volumes of air (at least 1 m3). The 100 LPM flow rate provides a critical element in both the velocity and impaction of the sample, and therefore the accuracy of the results. For continuous monitoring applications where a lower flow rate is desired, the CI-95A has models that support 1 CFM or 25 LPM flow rates.
Return On Investment
Not all microbial samplers are equal. The initial purchase price, cost of calibrations, cost of consumables, out of warranty repairs, and product life-cycle all factor into calculating the Return on Investment. Other intrinsic factors such as assurance, reliability, accuracy, application support, and superior customer service make Climet the unsurpassed leader in the manufacture of instrumentation for cleanroom monitoring, validation, and certification.
Custom Engineered Solutions
If you have a specific technical requirement, please contact us. We specialize in customizing our product to fit your needs!
Configurations
All products in this series have an RS-232 data interface, HEPA filtered exhaust, wall and battery power with fully integrated battery recharger, and other advanced features.
| | |
| --- | --- |
| Part # | General Description |
| 950095-XYZ | Microbial Sampler |
Where X = Sample Head
0 = Aluminum, 90 mm petri dish, 100 LPM (CI-A904)
1 = Stainless Steel, 90 mm petri dish, 100 LPM (CI-S904)
4 = Aluminum, 90 mm petri dish, 1 CFM / 25 LPM (CI-A901)
5 = Stainless Steel, 90 mm petri dish, 1 CFM / 25 LPM (CI-S901)
8 = Aluminum, 55-65 mm RODAC plate, 100 LPM (CI-A604)
9 = Stainless Steel, 55-65 mm RODAC plate, 100 LPM (CI-S604)
Where Y = Flow Rate
0 = 100 LPM
1 = 1 CFM
2 = 25 LPM
Where Z = Power Supply Type
1 = United States
2 = Euro
3 = United Kingdom
* Ask about our High Pressure Diffusers and Adapters, and our Remote Sample Head.
Accessories available to sample High Pressure Gases, and for a Remote Sample Head to monitor biosafety cabinets or isolators.
Proudly engineered and manufactured in the USA