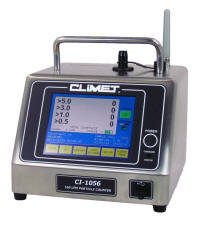 Wireless Particle Counters
IEEE 802.11 b/g/n
Available In All Flow Rates
Climet wireless particle counters provide the highest accuracy, highest reliability, and best value.
Simplified Data Transfer
Sample data is collected in the same manner as standard particle counters. However, the data is automatically transferred to a user-designated secure directory on the wireless network at the end of every sample in a transparent and seamless real time process. Each sample data file has a unique date and time stamp, and can be configured to also include a sample location ID.
Sample data is also saved in the particle counter's memory so if the Wi-Fi connection is unavailable the data will be automatically uploaded when the connection is restored, or when the particle counter returns within range of the wireless router. Climet uniquely confirms every sample is uploaded to the secure folder (or directory) on the wireless network. During this synchronization process, any missing sample data files will be re-transmitted. Therefore, the risk of a lab analyst not transferring sample data is virtually eliminated.
Security - Compliant with 21 CFR 11 Security
Sample data is transmitted in a human readable CVS (comma separated value) format, and is stored in a network directory made secure by the policies enforced by the network administrator. If using a Laboratory Information Management System (LIMS), the built-in scripting language can be set to upload the raw data for immediate processing. No additional software is required.
Timeserver Synchronization
Climet's wireless particle counters can be synchronized to a network timeserver. The timestamps on the samples imported can now be precise, and the risk of an analyst collection data with a bad timestamp can be eliminated.
Models
All CI series of portable particle counters now come with optional wireless connectivity.
The CI-x55 version comes with standard RS-232 and a Wi-Fi connection. The CI-x56 version comes with standard RS-232, Wi-Fi, and USB connectivity.