CI-97 Microbial Air Sampler
---
CI-97
100 LPM Microbial Air Sampler
Pharmaceutical Cleanroom Environments
21 CFR Part 11 Data & User Integrity Compliant
Drop and vibration tested (ISTA Procedure 3A Certified)
Stainless steel enclosure, audit reports, advanced data & user integrity features
New Patented or Patent Pending Blower Technology
Ultra-Clean and Ultra-Quiet Operation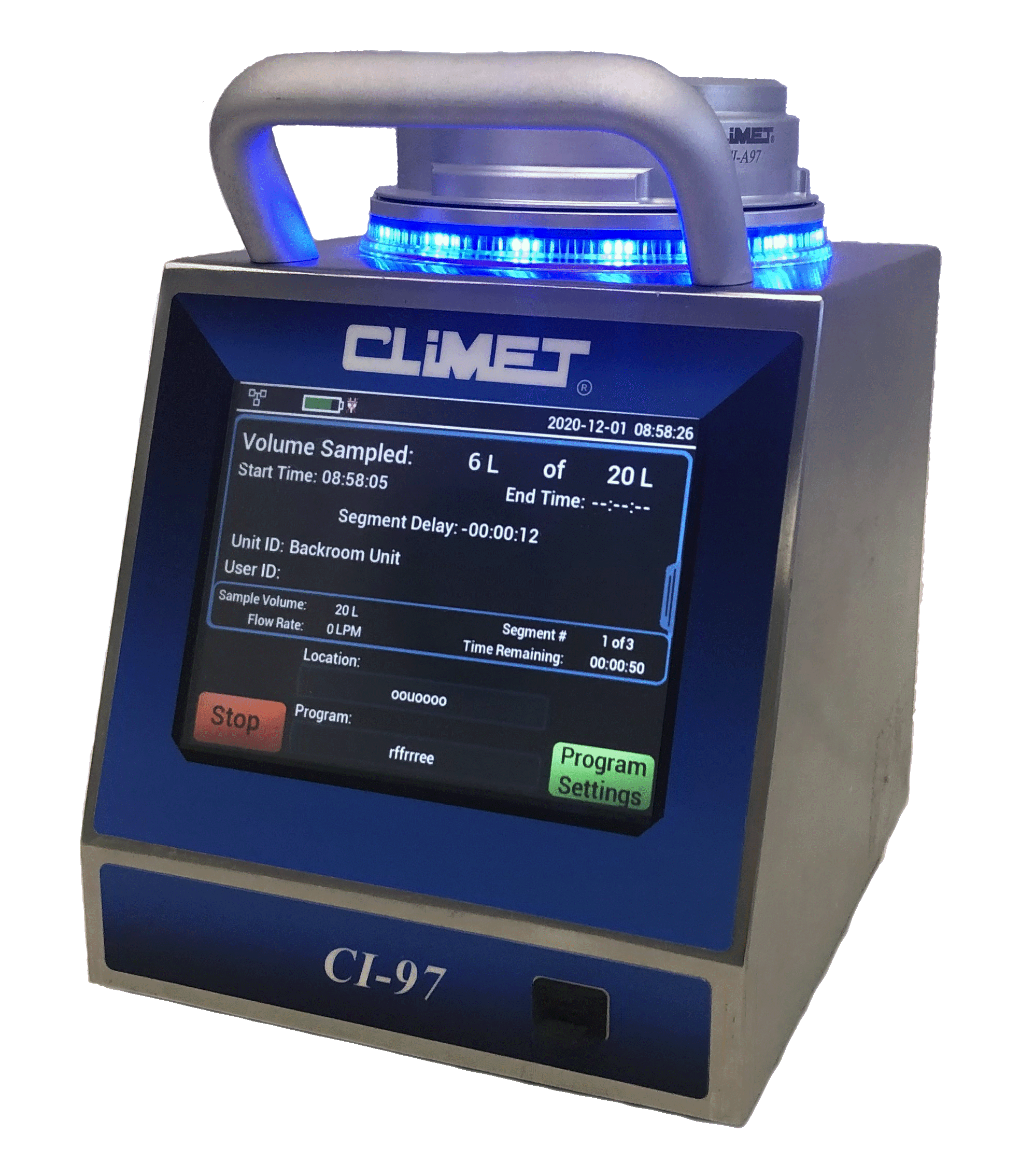 ---
In business for over 55 years, Climet has dozens of multi-jurisdictional patents in field of cleanroom environmental monitoring equipment. The CI-97 is fully compliant with 21 CFR Part 11, ISO 14698, ISO 17141, ISO 21501-4; PIC/S; FDA CGMP; EU GMP, Annex 1, and others.
NextGen™ Technology
The CI-97 is a high efficiency microbial air sampler that's suitable for pharmaceutical cleanrooms and aseptic environments.
The CI-97 is drop and vibration tested, certified to ISTA Procedure 3a, and afterwards passed its calibration (see video).
Pharmaceutical and industrial grade, the enclosure is 100% stainless steel that weighs only 7 lbs.
The CI-97 has an internal HEPA filtered exhaust, and incorporates an internal hot-wire anemometer that automatically adjusts flow rate ensuring the CI-97 is always within calibration. Combined with Climet's unique light ring, an audible alarm, and sample termination virtually eliminates the risk of deviation reports and investigations caused by interval calibration out-of-tolerance conditions.
A capacitive touch screen allows users to run GMP metadata reports, view pdf audit reports, and provides pinch-to-zoom and scroll capabilities. The screen operates normally when used with a double or even triple-gloved hands.
Metadata & Other Intelligent Features
The CI-97 is both pretty and smart.
With industry-leading cyber security features and unparalleled data/user integrity, the instrument complies fully with FDA 21 CFR Part 11 and all ALCOA principles.
The air sampler uniquely provides users with up to 300 programs, 300 UserIDs, and 1,000 locations (factory expandable). The Five Access levels offers security, flexibility, and automation once only found in particle counters.
The onboard 50,000 sample data memory buffer stores the following metadata: Date, Time, UnitID, UserID, Model#, Serial#, Program Name, LocationID, Sample Volume (L), Flow Rate (LPM), Sample Type (Continuous or Segmented), Number of Segments, Sample Duration (start and end timestamp with duration), Alarm Status, Calibration Date, Calibration Due Date, and more! This metadata can be transmitted to LIMS through Ethernet, Serial Data Communications, or USB, in similar fashion as particle counter metadata.
Additionally, pdf reports such as User Audit Trails, GMP metadata reports, audit logs, stored data, and program settings are provided.
Enhanced network login through Active Directory using LDAP protocols is also an optional feature through Climet's User Authenticator.
Proprietary Light Ring
Personnel are the most significant cause of biological contamination in a cleanroom (Ref. USP <1116>). During routine environmental monitoring, deviations have been caused by cleanroom personnel unknowingly walking too closely to a microbial air sampler while engaged. The shedding of macroparticles and microbe carrying particles subsequently causing a excursion event.
Where Climet CI-97 units have been deployed, pharmaceutical manufactures report fewer deviations as the light ring provides a clear indication that a sample is in progress. Climet's unique light ring also turns red providing a ground-level indication of a flow alarm. In the words of one user, "It's not just pretty, it's also smart!"
Physical Collection & Biological Efficiency
Click here to download an Application Note regarding regulatory changes between ISO 14698-1:2003(E) and BS EN 17141:2020. The application note also describes the comprehensive testing and validation of both physical and biological collection efficiency, which demonstrates the CI-9x Series are high efficiency and high precision instruments.
Satisfies all requirements of BS EN 17141:2020, as it pertains to the d50 (i.e., the particle size at which there is a 50% physical collection efficiency).
• Theoretical d50 = 1.08 µm (per equation provided in BS EN 17141:2020)
• Experimental d50 < 1 µm (also required by BS EN 17141:2020, tested using a particle counter)
• Biological Efficiency Testing confirms both high culturability of cfu's and high stability or precision of measurement.
Confirms the CI-9x Family are high efficiency and precision air samplers.
USB Ports - ADMIN Disable Feature
The front USB 2.0 Type A (data) port is for downloading sample data onto a flash drive. Pharmaceutical users will frequently want to electronically disable this port through the Admin settings. Alternatively, Climet (or our international distributors) can physically disable this port during manufacture or through a service request, typically during an interval calibration.
The rear USB 2.0 Type B (communications) port is used exclusively for Remote Network Driver Interface Specification (RNDIS). This is a proprietary Microsoft communications protocol that provides a virtual Ethernet link to most versions of Windows, Linux, and FreeBSD operating systems. Sample data cannot be downloaded onto an external flash drive with the rear USB communications port. This is a valuable communications feature when wired Ethernet connectivity cannot practicably be deployed.
Cleaning and Sterilization
The CI-97's entire enclosure is stainless steel, which is compatible with common cleaning and sterilization procedures. If wiped-down with a diluted bleach solution, we recommend a second wipe-down with sterilized water as bleach will cause stainless steel to rust. Climet also recommends users VHP the CI-97 at least quarterly while the instrument is engaged. This will allow VHP to enter the flow path and HEPA filter, disinfecting the interior of the instrument helping to mitigate cross contamination. The CI-97 is fully 100% VHP compatible with no reduction in our standard 2-year warranty.
FDA 21 CFR PART 11 - Advanced Data Integrity Features
Advanced data integrity features include:
• User Authenticator (Network Login Capabilities with Active Directory)
• 300 Programs, 300 User ID's, and 1,000 Location IDs (Factory Expandable)
• Metadata: Date, Time, Unit ID, User ID, Model#, Serial#, Program Name, Location ID, Sample Volume (L), Flow Rate (LPM), Sample Type (Continuous or Segmented), Number of Segments, Sample Duration (start and end timestamp with duration), Alarm Status, Calibration Date, and Calibration Due Date.
• Internal solid state sample memory buffer of 50,000 records
• Reports: Alarm Reports, User Audit Trail (or Audit Log) Report, Program Settings Report, GMP Reports (short form and long form), and Stored Data Reports
• Electronically export sample records (metadata) automatically via wired Ethernet, USB, or RS-232
• USB front data port can be user disabled by Admin Level Access, or factory disable at no cost.
• Secure Sample Control prevents sample from being terminated (user enabled)
• Network Time Server ensures record is Contemporaneous (i.e., ALCOA)
• User Access Levels: 5
• Data integrity verifiable for each sample record
• Seamlessly integrates and exports sample records directly to LIMS, SCADA, or MODA without middleware.
Standard Advanced Features:
Other advanced features include:
• Light Ring: User-configurable status and alarms (enable/disable, 5-colors, patterns, etc.)
• Automatic Flow Control ensures flow rate remains in calibration / compliance
• ALARMS: Light Ring, audible alarm (100 dB at source), and sample termination virtually eliminates deviation reports and investigations.
• HEPA Filtered Exhaust
• External adjustable exhaust port for critical areas
• Unit-to-Unit Cloning
• Programmable start delay (user enabled)
• Display is a color LCD (cellphone-type) capacitive touch screen (pinch to zoom, swipe to scroll)
• Display designed to work with a double-gloved hand.
• Battery: Single lithium-ion for up to 6+ hours of continuous operation
• Battery: Interchangeable with the CI-x70 particle counters.
• Battery: Low battery lockout and alert (prevents sample from starting when battery is too low)
• New patented ultra-quiet / ultra-clean blower technology
• HEPA filtered exhaust factory certified to ISO Class 3
• VHP Compatible with no reduction in our 2-year warranty
• Continuous Sampling or Sample Segmentation let users extend sample times
• Calibration Lockout (user enabled)
• Secure Sample feature prevents a sample from being terminated
• Compliant with ISO 14698-1, BS EN 17141, ISO 21501-4 (§ 6.6, 6.7, 6.8, 6.9, 6.10(k)(NOTE)), and 21 CFR Part 11
• USB Port: Admin disabled, or factory disabled at no charge
The CI-97 is truly the next generation of microbial air sampler, with onboard intelligence unsurpassed on the market today, it provides Climet a platform for future enhancements, and scalability to satisfy custom technical requirements.
An expert in manufacturing industrial instrumentation, every new Climet instrument design is drop and vibration tested ensuring end-users can expect up to a decade (and beyond) of reliable operation. This level of ruggedized testing is unique in the industry, and ensures accidents don't turn into capital appropriation requests or expensive repair bills.
Tested and Certified HEPA Filtered Exhaust (ISO Class 3)
Each CI-97 deployed in the Life Science industry must have a HEPA Filtered Exhaust, or otherwise risk regulatory action (i.e., an observation, finding, etc.) due to rouge particle emissions. Over the past 50 years our own experience confirms that not all HEPA filters are created equal, and that among the more expensive and higher quality filters an average of 10% still fail a leak integrity test. For this reason, Climet is the only manufacture that conducts emissions tests on every new factory model, and certifies emissions to ISO Class 3. This provides an added level of assurance to users that their microbial air samplers are not adding to the particle burden of their cleanroom.
Interval Calibration Out-of-Tolerance Rates
Customers in regulated industries are generally required to re-calibrate their particle counters at least annually. Depending on the process or risk assessment, more frequent interval calibration may be required. When a particle counter is out-of-tolerance (OOT) during the interval calibration, a deviation report and investigation is required in regulated industries. Among pharmaceutical and biotechnology producers, a simple failure investigation costs between $8,000 to $12,000 on average assuming no scrap or batch rejection. This cost is difficult to calculate as it's almost all labor and usually involves multiple departments. It is a hidden Cost of Poor Quality (CoPQ) associated with the instrument. As the cost of one simple failure investigation well exceeds the initial purchase price of a microbial air sampler, we can conclude that CoPQ is frequently the #1 cost driver.
Internal and external studies confirm that since 2005, when Climet first started manufacturing microbial air samplers, we have yet to hear of even one report of a Climet microbial air samplers failing an interval calibration. These statistics are absolutely unparalleled in the industry, and Climet uniquely provides value well beyond the simple use of the instrumentation.
Custom Engineered Solutions
If you have a specific technical requirement, please contact us. We specialize in customizing our product to fit your needs.
More Information
Models
Technical Brief
Accessories
Need something not shown below, please contact us!


CI-97: 100 LPM with advanced data integrity and other features. USB port can be disabled by Administrator settings, or factory disabled at no charge.


Exceeding standards and expectations. Climet uniquely manufactures our instrumentation, not to simply meet ISO standards, but to exceed the standard in order to meet user expectations for: (1) accuracy and stability of measurement; (2) mitigation of deviation reports and investigations; (3) ease of use; and (4) overall product quality. These factors uniquely provide our loyal customers the lowest TCO (Total Cost of Ownership).
Buy From An Innovator, Not An Imitator: Climet, literally, invented the portable particle counter (1993), as well as higher flow rates of 50 LPM, 75 LPM, and 100 LPM (2005-2008). With a long history of successfully implementing disruptive technologies, our customers can rest assured they own the highest quality instrumentation available on the market. Every Climet particle counter is manufactured with the highest degree of engineering acumen, and incorporates one or more patented or patent pending technologies.
Uncompromising Quality is in our Corporate DNA. Our success is not based on quirky marketing gimmicks, but rather rock-solid instrumentation that adds personal value, and that's time-proven and built to last a decade or more.
Included with the purchase of every new unit is EVERYTHING you need to get started:
- Internal Battery Charger
- Power Cord
- Battery
- Manual with IQ/OQ Documents
- Cloning through USB or Ethernet port
- USB Flash drive
- Quick Start Guide

Optional Accessories
- CI-312 External Battery Charger
- Hard Shell Shipping Case (small or large)
- Unit Validation Document
- Spare Battery
- High Pressure Diffuser